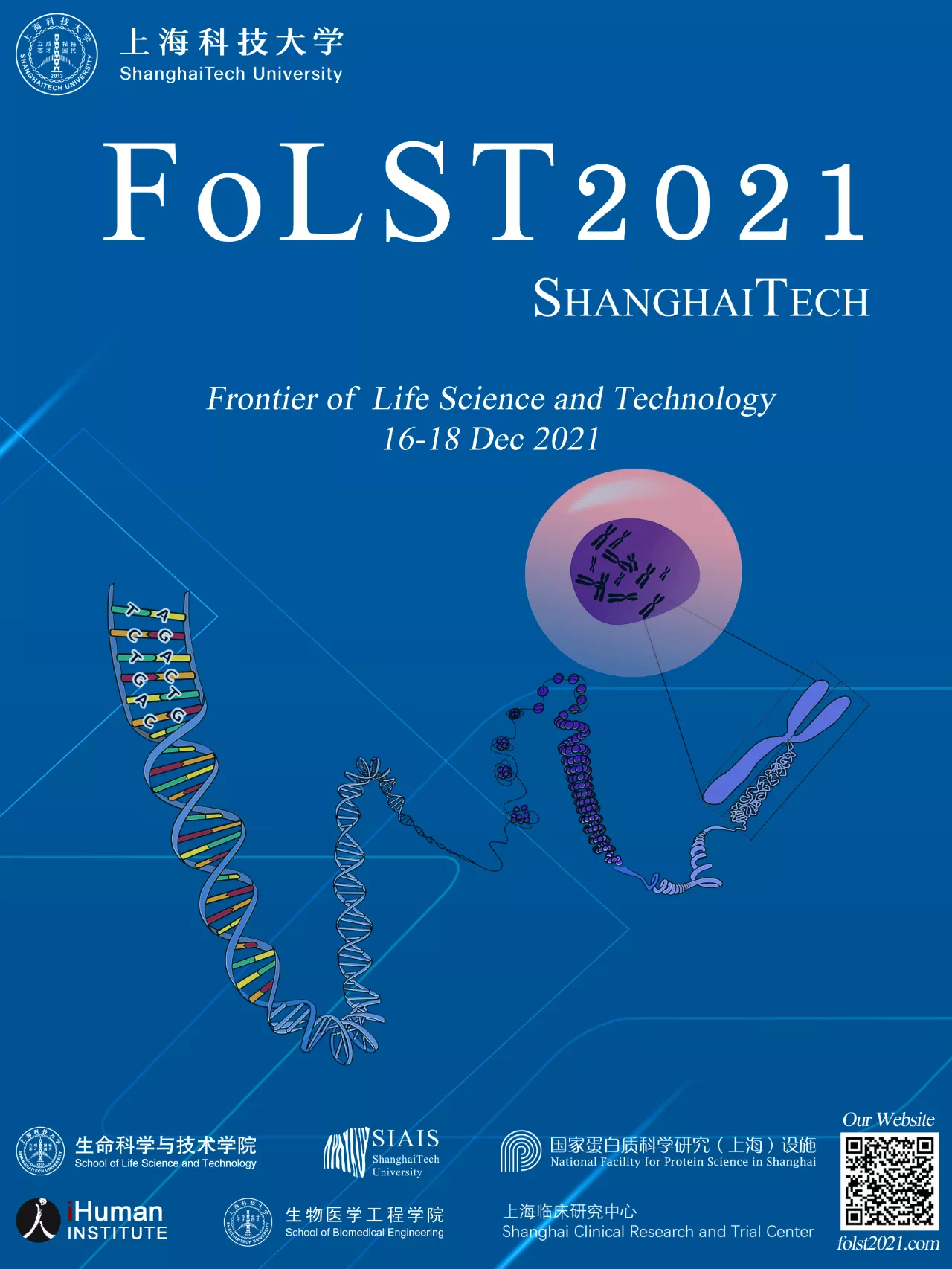 The Frontier of Life Science and Technology (FoLST2021) is hosted by the School of Life Science and Technology (SLST) at ShanghaiTech University and co-hosted by Shanghai Institute for Advanced Immunochemical Studies (SIAIS), iHuman Institute (iHuman), School of Biomedical Engineering (BME School), Shanghai Clinical Research and Trial Center (SCRaTC), and National Center for Protein Science Shanghai (NCPSS). The conference will take place on the campus of ShanghaiTech University (1 Zhongke Road, Pudong, Shanghai 201210, China) on 16-18 December 2021.
The FoLST2021 meeting website is: FoLST2021.com
The purpose of this conference is to provide an opportunity to discuss the growing fields of life science and technology in areas such as immunity and metabolism, molecular / cellular / developmental biology, neuroscience, structural biology, genomics / genetics / systems cell biology / omics, stem cell and regeneration, as well as health care management. Since the frontier of life science and technology has drawn people from a wide array of backgrounds working in many different systems, we hope that by bringing many of us together for such a forum, we can begin to forge an interactive community of people. Your participation would greatly promote this goal.
01 Organizing Committee(Ordering by last name)
FAN, Gaofeng
LIU, Ji-Long
SHEN, Wei
WANG, Haopeng
ZHAO, Jian
ZHAO, Suwen
02 Proposed Sessions
Session I: Metabolism and Chemical Biology
Session II: Virus and Immunity
Session III: Posters
Session IV: Neuroscience
Session V: Regulation of Gene Expression
Session VI: Precision Medicine
Session VII: Clinical Research and Management
Session VIII: Structural Biology
Session IX: Flash Talks
Session X: Development and Disease
Session XI: Translational Research
03 Confirmed speaker list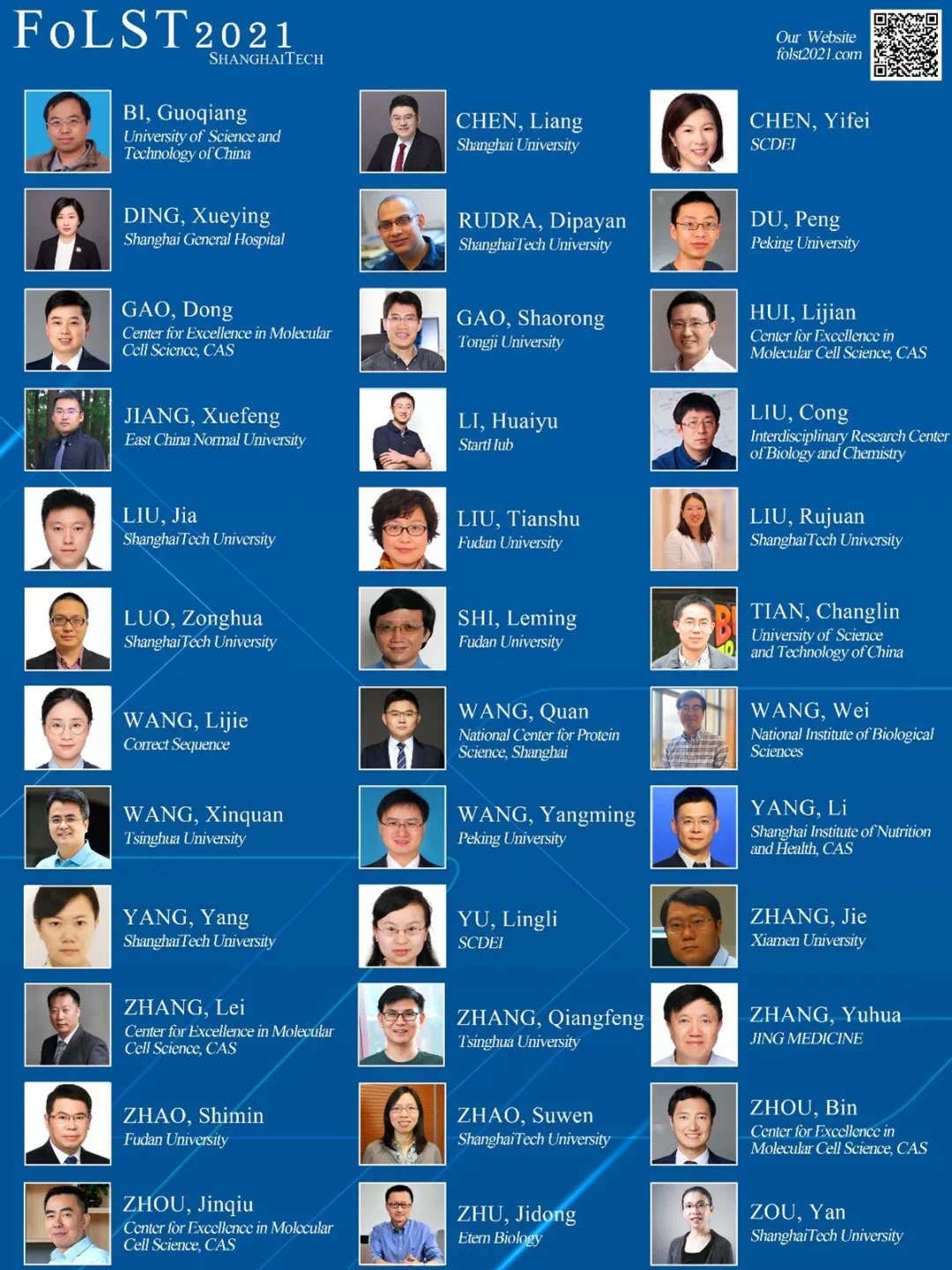 04 Registration
(1) Link for registration: https://www.wjx.cn/vm/QSeyJ0a.aspx, including poster (Title/Abstract) submission and payment.
(2) The deadline for online registration is December 10, 2021.
(3) We offer on-site registration during the conference.
05 Quarantine requirements
(1) Please check your body temperature at the security check, hold the health green code and travel green code to enter. Masks must be worn throughout the meeting.
(2) If you are from a high-risk area and have paid, please contact the conference management team as soon as possible.
(3) For other special cases, please contact the conference management team before the conference. No refund will be given after the conference.
生命科学与技术前沿会议2021 (Frontier of Life Science and Technology,FoLST2021)由上海科技大学生命科学与技术学院(SLST)主办,免疫化学研究所(SIAIS)、iHuman研究所(iHuman)、生物医学工程学院(BME School)、上海临床研究中心(SCRaTC)和国家蛋白质科学中心(上海)(NCPSS)协办。本次会议旨在为免疫与代谢、分子/细胞/发育生物学、神经科学、结构生物学、基因组学/遗传学/系统细胞生物学/组学、干细胞与再生、医疗保健管理等生命科学与技术发展领域的专家、学者提供一个交流和展示的平台。该会议将于2021年12月16日至18日在上海科技大学(上海市浦东新区中科路1号)会议中心举行。
1.1 组织委员会(按姓氏拼音排序)
范高峰
刘冀珑
沈伟
王皞鹏
赵简
赵素文
1.2 会议注册
(1)注册链接:
https://www.wjx.cn/vm/QSeyJ0a.aspx,包括提交墙报英文题目/英文摘要和进行缴费;
(2)会议在线注册截止时间为12月10日;
(3)会议期间可现场注册。
1.3 防疫要求
(1)须在安检处进行体温测试、持健康绿码和行程绿码入会场。会议期间须全程佩戴口罩;
(2)如来自疫情中高风险区,已交费的代表请尽快与会务组联系处理取消参会;
(3)其他特殊情况请一定在会前联系会务组,会后概不退款。