Eager to be a part of The Action
[source]:超级管理员
[the author]:超级管理员
[date]:2018-07-23
[Views]:2332
One of the main reasons chemist and structural biologist Raymond Stevens decided to come to Shanghai to embark on a new phase of his scientific career was the passion and curiosity of the students in the city.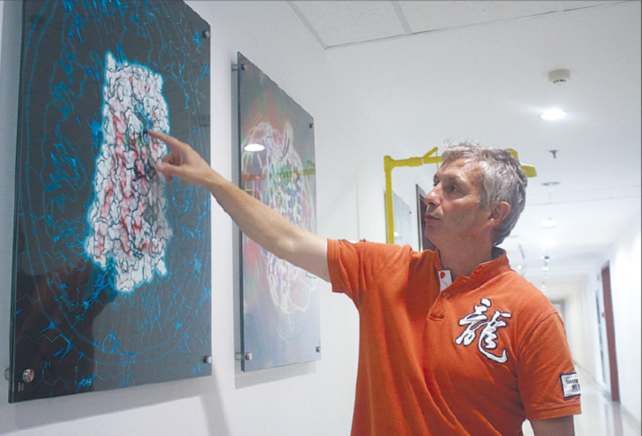 Raymond Stevens has helped develop medicines used to treat a variety of diseases. Gao Erqiang / China Daily
Unlike most instances where the audience would leave following a short question and answer session toward the end of the talk, Stevens found himself in a rather peculiar situation in Shanghai in 2009 - the students simply wouldn't leave him alone.
I really needed to go to the bathroom so I started making my way out of the lecture hall. The girls stopped outside the door to the men's restroom. But the boys went in with me and continued with their questions! laughed Stevens, who is today the director of the iHuman Institute at ShanghaiTech University. I wasn't offended at all. In fact, I was amazed at how curious and interested they were in science. It was then that I realized I should perhaps be spending more time in China.
In 2011, two of his former students who became professors in Shanghai were looking to start their own chemistry labs and approached the American to help with the endeavour. He obliged, and later met the president of ShanghaiTech University who urged him to start a research institute within the campus.
Stevens admitted that he was initially apprehensive about the idea because he was not able to speak or read Chinese and knew nothing about setting up an institute in Shanghai. His family, however, were eager to stay and experience more of China.
Family aside, the fact that Shanghai is a thriving hub for chemistry research was another major pull factor.
I've traveled around the world a lot and the resources available at Shanghai's Zhangjiang Hi-Tech Park are probably the best in the world, he said.
Also, almost every major pharmaceutical company is here because this is where the research is happening.
Right now there are five Nobel Prize winners associated with ShanghaiTech, and there's a reason why they are coming here - they know that there are a lot of new breakthroughs happening in Shanghai. They want to be where the action is, he added.
Established in 2012, the iHuman Institute has since ascertained itself as one of the most impressive research facilities in the country. While universities typically produce one research paper every few years, iHuman has already published 12 within five years.
According to Stevens, the institute has also greatly contributed to the city's push to become a global scientific hub by hiring 150 scientists, 18 of whom are top professors from elite schools such as Harvard University, the University of California, San Francisco and the Scripps Research Institute.
Born into a military family, Stevens' first job was actually as a trainer in the US army who taught basic infantry skills.
He said that joining the military was his way of giving back to the country and learning more discipline and organization skills.
Stevens first studied computer science in college before he was urged to make the switch to chemistry by a renowned professor named John Ricci.
Describing himself as someone who loves building and mixing things, Stevens said that crossing over to chemistry was not a difficult decision to make.
As part of his undergraduate program in chemistry, Stevens got to work in a nuclear reactor in New York and did research on metal materials that could be used to store hydrogen for space exploration purposes.
Part of the work involved using a technique called X-ray crystallography to view the hydrogen atoms.
This technique would later form the basis of his research into life science. Throughout his illustrious career, Stevens has helped develop medicines that are used to treat diseases including the influenza virus, diabetes, multiple sclerosis and liver fibrosis.
Our ultimate goal at iHuman is to create a device that would allow us to see all the atoms in the human body at once, he said.
This would allow people to undergo a scan and know if there are problems, like a growing tumor, or nerve degradation. We believe such a technology will dramatically change healthcare. The better and faster we are at diagnosing diseases, the better we can make new medicines to treat them.
For his outstanding contributions to the city's development in the sciences, Stevens was conferred the prestigious Shanghai Magnolia Silver Award on Sept 6.
I want iHuman to be the best place in the world for human cell signalling research. We're definitely on that path. Everyone already wants to come and visit after reading our publications, he said.
With regard to the future, Stevens expects to stay in the city for the next decade and more.
I've lived in a lot of different places in the world and Shanghai is the only place that feels like home. I would eventually return to my hometown, but perhaps only after 15 or 20 years, he said.
http://usa.chinadaily.com.cn/china/2017-10/07/content_32930027.htm